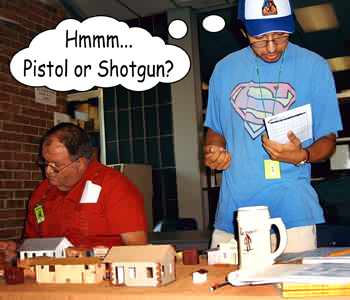 THINKING IT OVER
Richard Nelson (left) checks how much Damage the Sheriff has taken as Robert considers his weapon options -- range or killing power?
"The battle was actually pretty heated," Mitchell said," neither Richard nor Robert asked for any quarter, and none was given."
Mitchell said that although the game, and the convention in general, were small, he had a good time and was pleased to meet the convention staff.
"The con organizers seemed to have done a very nice job for a small convention," Mitchell said. "I'm glad I made the hour-long drive from North Houston down south to Pasadena."
He added that he was looking forward to making that drive more often this fall as the Gutshot Posse plans to start focusing more attention and committing more time to visiting the game stores and clubs in that part of town.
If you have a game store or club and would like to arrange for a demo game, please contact Mike Mitchell for more information.