Gutshot out of stock
But we'll see you in September
July 27, 2016
Just a quick note to let ya'll know that, for a few weeks, Gutshot is out of print. We're very sorry about that, but we've sold out of the stock on hand and we're going to take a few weeks to tweak a few things in the book before the next printing (nothing major, and it won't affect game play).
I'm checking with our retailers to see who still has some copies on hand, and I'll post it when I get that info.

Sorry for the long delay
Dang, but it was a rough winter!
March 16, 2015
Just wanted to give ya'll a heads up and let ya know we did, in fact, survive this long blasted winter. Can't say we got through unscathed -- that flu bug knocked the Marshal off his saddle for two months, off 'n on. But things are looking up again and we'll be making some updates to the site shortly. We'll also be looking into rumors that the forum ain't working properly. So fret not, saddle pals, the Gutshot Posse will be back in the saddle again real soon!

S&S Book Progress Update
Slow-n-steady wins the race... we hope!
June 22, 2014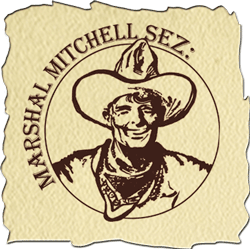 So, May didn't happen. Nor did June. And, if I'm honest, July is tentative.
May got off track because most of my free time was spent on a gaming project being developed by our partner, Paul "Mad Dog" Mauer. If it ever comes to fruition, you'll be the first to know... and so will the rest of the country. Yup, it's that big. And that mysterious.
I actually got a lot of work done in June, but not enough to finish the book. Right now I can't tell if I've misjudged the size of the project, or am just getting mired down in project scope creep. By that, I mean I keep adding lots of little touches here and there that, perhaps, are not needed -- but do add value to the final delivered book. It's probably a combination of the two factors.
So, this little missive is just here to let you know that I'm still hard at work on our next book, Gutshot: Showdowns & Shootouts Adventures. In fact, I think it's looking pretty darned good.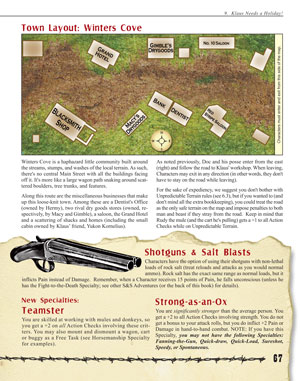 Here's a sample page from one the ninth adventure, "Klaus Needs a Holiday." If you've got really sharp eyes (and a good memory, you might notice that it's got a new sawed-off shotgun drawing. I never liked the old one, so this was definitely an opportunity to upgrade that piece of art a little. Other improvements include tweaks to the maps (and one adventure is even getting a new map).
Now, you might be wondering why I'm reformatting the adventures. After all, they looked pretty good the first time around. The answer is simple -- those adventures were formatted for you to print out on your home printer. For that reason, backgrounds and color were kept to a minimum. This time, however, we're doing a PDF and a book. The PDF can have all the color we want, and the book (which will be printed in black & white) will be formatted to take advantage of the larger print area (we can bleed artwork off the pages) and have tighter margins. In short, it's going to look a little slicker than the print-at-home pages.
Right now, I'm aiming to get the PDF out in August. Whether it's the beginning or end of August remains to be seen.
I'm still keeping a log of my work on this book.
If you're interested, you can find it here:


DEADWOOD - Grave Names
Rust N. Peace
This has always been one of my favorites.
I. L. Beback
Ray N. Carnation
I. M. Mortal
Theo Later
U.R. Gone
Six-Gun Sam
Under his name, you can write, "Because it took 6 bullets to kill me!"
The Coffin Kid
On the marker: "I told yuh I wuz sick!"
Count Alucard
Read it backwards - This was actually the name the count used in 'Billy The Kid vs. Dracula.' Maybe you can draw a bat on the marker?
Arch Stanton
This was the name next to the unmarked grave from 'The Good, The Bad & The Ugly.
M.T. Tomb
The Grave With No Name
What else would you give a man with no name?

The Coyboy's Lament

"O bury me not on the lone prairie
 Where coyotes howl and the wind blows free
 In a narrow grave just six by three—
O bury me not on the lone prairie"

 "It matters not, I've been told,
 Where the body lies when the heart grows cold
 Yet grant, o grant, this wish to me
 O bury me not on the lone prairie."

 "I've always wished to be laid when I died
 In a little churchyard on the green hillside
 By my father's grave, there let me be,
 O bury me not on the lone prairie."

 "I wish to lie where a mother's prayer
 And a sister's tear will mingle there.
 Where friends can come and weep o'er me.
 O bury me not on the lone prairie."


I've always liked this tune. I recall singing it as kid in Scouts and in school. To be honest, I couldn't imagine kids today being taught this song. And that's sad, because (and I don't care if I tick you off by saying it), I think we've allowed too many whiney people to dilute our culture into some sort of mamby pamby shadow of our former glory.
But I digress...
In Gutshot, eventually you're going to kill enough folks (all bad, I'm sure) that you'll need your own boot hill grave yard, and yer gonna want some names to put on the markers that are already there.
I also strongly suggest that you put some dead character names on the stones or wooden planks.
Thanks again to the guys at The Miniatures Page for their help, especially richarDisney!
- Mike Mitchell
06/22/2014