New Showdowns & Shootouts Adventure
Bullets for Breakfast ready for FREE download
May 25, 2007 -- Houston, Texas

Download it on the Showdowns & Shootouts page.

There's hot lead on the menu as Gary Hopper and his boys ride into town to avenge the hanging of his little brother, Jack.  The fact that baby brother was a no-good bank robber don't mean nothin' to these hired gunnies as they ride into town at dawn.

Of course, there's two sides to every story.  Back in Cougar Creek, the terrified populace is hiding in their cellars. Last week they were more than happy to watch that no-good polecat swing, but now that there's danger afoot, they're nowhere to be found.  That just leaves Marshal Rowdy Yates and his brother (the famous hangin' judge Phil Yates) to defend the town. The two are hunkered down waiting for the outlaws to strike. They're the only force for law in this town, and the only men with the nerve to stand up to the forces of lawlessness and violence.
No matter who wins or who dies, before the dawn sun crests the horizon, someone will be having Bullets for Breakfast!
Choose yer team, amigo!
So, take yer stand, pardners: Law or Disorder. It's waitin' fer yuh in the latest adventure from Hawgleg Publishing's Showdowns & Shootouts Adventure Writing Contest.  Written by Ross Edwards, this is a primal tale of man against man, bullet against bullet.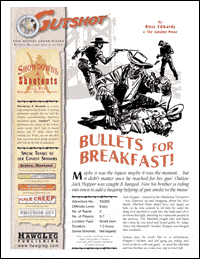 "This is a great adventure," said Gutshot co-creator Mike Mitchell. "The second we read this one we knew it was a contender. I mean, this is exactly the type of adventure we're looking for. It's got a fun plot and very clear victory objectives."
Ross was very excited to learn his submission had been selected as the second adventure to be published in the S&S contest.
"WOW! All I can say is WOW!!! Thank y'all very kindly, I hope y'all have as much fun with it as I did," Ross said.
Bullets for Breakfast is available for free download from www.hawgleg.com and is customized for use with the Origins Award winning game, Gutshot.
"Of course, you may download it and modify it for use with any game system you like," Mitchell said.  "But we do ask that you not post any conversions online or share them with other gamers outside your personal group."
Contest still accepting submissions
In addition to the indescribable thrill and glory of having his name attached to a Hawgleg product, Ross (and all other authors published in this contest) will receive a tangible reward: a 'La Vaquera' miniature."
The miniature is a limited edition 25mm figure of a tequila swilling lethal lady that will be sent to each person who has an adventure published.  Additionally, Ross will be eligible for the Judges' and Jury's Prizes with a combined value of about $400 in value.
The contest will be accepting submissions through November or December (a final date will be announced near that time), so if you've got an idea for an adventure of your own, mosey on over to the contest home page and enter now, pilgrim!
Special thanks to this month's
featured sponsor: Whitewash City!