Gutshot still out of stock
Reprint scheduled by Feb. 2017
Dec. 28, 2016
Sorry for the additional delay, folks, but we decided to do a little updating to the next printing of Gutshot. Mainly, we're updating a little of the artwork (there were a few illustrations in the first edition that ole Marshal Mitchell never really liked). And, of course, this took a mite longer than expected.
However, we're on track and will have new copies on hand for OwlCon 2017, February 10-12, 2017. We'll post more details shortly, and thanks for your patience.

One of the illustrations that will make it into the next printing of Gutshot.

Merry Christmas!
Our best to you and yours
Dec. 25, 2016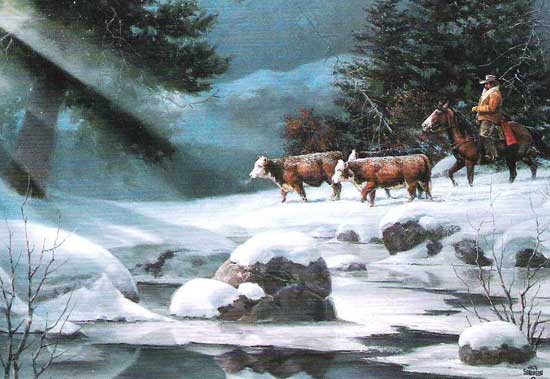 I ain't much good at prayin',
   and You may not know me, Lord --
For I ain't much seen in churches,
   where they preach Thy Holy Word.
But you may have observed me
   out here on the lonely plains,
A-lookin' after cattle,
   feelin' thankful when it rains.

Admirin' Thy great handiwork.
   the miracle of the grass,
Aware of Thy kind Spirit,
   in the way it comes to pass
That hired men on horseback
   and the livestock that we tend
Can look up at the stars at night,
   and know we've got a Friend.

So here's ol' Christmas comin' on,
   remindin' us again
Of Him whose coming brought good will
   into the hearts of men.
A cowboy ain't a preacher, Lord,
   but if You'll hear my prayer,
I'll ask as good as we have got
   for all men everywhere.

Don't let no hearts be bitter, Lord.
   Don't let no child be cold.
Make easy the beds for them that's sick
   and them that's weak and old.
Let kindness bless the trail we ride,
   no matter what we're after,
And sorter keep us on Your side,
   in tears as well as laughter.

I've seen ol' cows a-starvin' -
   and it ain't no happy sight;
Please don't leave no one hungry, Lord,
   on Thy Good Christmas Night --
No man, no child, no woman,
   and no critter on four feet
I'll do my doggone best
   to help you find 'em chuck to eat.

I'm just a sinful cowpoke, Lord --
   ain't got no business prayin'
But still I hope you'll ketch a word
   or two, of what I'm sayin':
We speak of Merry Christmas, Lord--
   I reckon You'll agree --

There ain't no Merry Christmas
   for nobody that ain't free!
So one thing more I ask You,
   Lord: just help us what You can
To save some seeds of freedom
   for the future Sons of Man!

S. Omar Barker


DEADWOOD - Grave Names
Rust N. Peace
This has always been one of my favorites.
I. L. Beback
Ray N. Carnation
I. M. Mortal
Theo Later
U.R. Gone
Six-Gun Sam
Under his name, you can write, "Because it took 6 bullets to kill me!"
The Coffin Kid
On the marker: "I told yuh I wuz sick!"
Count Alucard
Read it backwards - This was actually the name the count used in 'Billy The Kid vs. Dracula.' Maybe you can draw a bat on the marker?
Arch Stanton
This was the name next to the unmarked grave from 'The Good, The Bad & The Ugly.
M.T. Tomb
The Grave With No Name
What else would you give a man with no name?

The Coyboy's Lament

"O bury me not on the lone prairie
 Where coyotes howl and the wind blows free
 In a narrow grave just six by three—
O bury me not on the lone prairie"

 "It matters not, I've been told,
 Where the body lies when the heart grows cold
 Yet grant, o grant, this wish to me
 O bury me not on the lone prairie."

 "I've always wished to be laid when I died
 In a little churchyard on the green hillside
 By my father's grave, there let me be,
 O bury me not on the lone prairie."

 "I wish to lie where a mother's prayer
 And a sister's tear will mingle there.
 Where friends can come and weep o'er me.
 O bury me not on the lone prairie."


I've always liked this tune. I recall singing it as kid in Scouts and in school. To be honest, I couldn't imagine kids today being taught this song. And that's sad, because (and I don't care if I tick you off by saying it), I think we've allowed too many whiney people to dilute our culture into some sort of mamby pamby shadow of our former glory.
But I digress...
In Gutshot, eventually you're going to kill enough folks (all bad, I'm sure) that you'll need your own boot hill grave yard, and yer gonna want some names to put on the markers that are already there.
I also strongly suggest that you put some dead character names on the stones or wooden planks.
Thanks again to the guys at The Miniatures Page for their help, especially richarDisney!
- Mike Mitchell
06/22/2014