Showdowns & Shootouts Adventures
Contributor Copies to Start Shipping in mid-April
March 27, 2017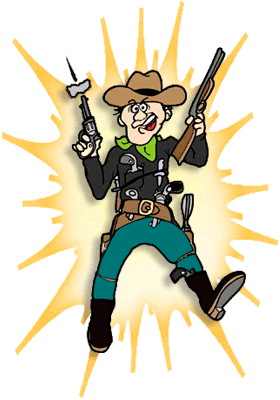 Sorry for the delay, folks, but even after we got the web site back online, we have had a slew of behind-the-scenes stuff going on lately. One of the things still under development is the addition of a new shopping cart, new contact form and a big shift for Arnica Real Estate (more on the latter as it develops).

But we seem to be on track to get it all completed soon, which means that we will FINALLY be mailing out the contributor copies of Gutshot: Showdowns & Shootouts Adventures.

We will be reaching out to each of the contributors to see if you want to buy additional copies (at a discount, of course). We think domestic copies will start shipping in mid-April, and international copies should be shipping by around the first of May.

Contributors: If you do not hear from us by May 1, 2017 please reach out to us through the Hawgleg Forums, The Miniatures Page (we're active on the "Old West" forum) or our Facebook group.

,

Hawgleg Website Restored
For the most part, anyway...
March 5, 2017

Sorry for the excruciating delay, folks. Our Website had a series of critical failures on Feb. 22, which resulted in the complete deletion of all content. Additional failures included the loss of two back-ups, which meant we had to kick it back to our hosting company to get them to restore the site.

And, of course, they were having a problem with their backup server!

When all was said and done, we were able to restore the Website with a backup from Dec. 13, 2016.

All in all, I think we lost 3-4 news stories and about a half-dozen forum posts. We will try to recreate the news stories, but the forum posts are gone for good.

Just give us a few more days to clean things up behind the scenes, please, and we'll do the best we can to put this whole ugly mess behind us.

,

Showdowns & Shootouts Adventures Released!
Long-awaited print version of book is ready to go!
Feb. 4, 2017
Hey Saddlepals, it's yer ole buddy Paul "Mad Dog" Mauer. I'm here to tell you about a brand new book that we here at Hawgleg Publishing have put together for you. It's called Gutshot: Showdowns & Shootouts Adventures, and it's a collection of the best ideas we received during the contest of the same name we held a couple of years ago. Back then, we asked our players to send us their ideas for adventures and we picked some of them to receive some prizes. Little did we know that we would receive so many ideas from our fans. About 50 in all, if my recollection is right.
As part of the contest, we chose a dozen entries, which ranged from chases to bank robberies to an exciting solo-player game. In other words, we had a lot of great stuff to choose from so we tried to mix it up with a combination of classic adventures and daring new ideas. Everything we selected was designed to make the most of the Gutshot ruleset – and build on it. You see, in addition to providing you with maps, character sheets and detailed scenarios, we also added some new rules, vehicles and equipment to the game.
And the best part was, it was all FREE. Yup. Each of the 12 adventures was posted up on the Hawgleg website as free PDFs. And that's the way it's going to stay: The Showdowns & Shootouts adventures are online and will remain so
Well zoom forward to 2017, and that brings us to where we are today. Y'see, we thought that some of you might like to have all the winning adventures in one place, so we made a book out of them. But why stop there? So we actually made TWO books: one is in color and the other is in black & white.
Now, you might be wondering, what is in this book and why should you plunk down yer hard-earned money for something you can download for free? Well, quite frankly maybe you shouldn't. After all, these adventures are available for free download on our website (www.hawgleg.com). We did make a few changes to the book, though. We added a few maps, made a few minor updates and slightly reworded some of the new rules. Nothing major, to be honest. And then we took it over to Miss Mona's parlor and had her take a look at it to make it pretty. It's all gussied up now it's ready fer you to take home for your next round of dice slinging.
The two versions of the book are identical, except for one being in color and the other being in black & white. We ain't gonna lead yuh on: The color version ain't cheap. It's $30. That's why we made the b&w edition: It's only $20. Before ya buy it (if you do), here's the skinny on what's between the covers of Gutshot: Showdowns & Shootouts Adventures:
108 pages
8.5 x 11 inches (both versions have a full-color, laminated cover)
12 Wild West Scenarios for a variety of group sizes and players (there's even a rip-roarin' solo adventure)
154 fully Developed Characters & NPCs
3 New Specialties
2 New Vehicles
New mechanics for handling swimming and white water rapids
New templates and rules for fighting in the dark
A new equipment list
The book will be released Feb. 10-12, 2017 at OwlCon in Houston, Texas. And after that it will be available for purchase from our website. Additionally, in April (or thereabouts) we will also have a PDF version of the book available from vendors like www.drivethrurpg.com (more on that later).

So, if you decide to saddle up for adventure and buy our latest book, we hope you enjoy using it as much as we enjoyed making it.

,


DEADWOOD - Grave Names
Rust N. Peace
This has always been one of my favorites.
I. L. Beback
Ray N. Carnation
I. M. Mortal
Theo Later
U.R. Gone
Six-Gun Sam
Under his name, you can write, "Because it took 6 bullets to kill me!"
The Coffin Kid
On the marker: "I told yuh I wuz sick!"
Count Alucard
Read it backwards - This was actually the name the count used in 'Billy The Kid vs. Dracula.' Maybe you can draw a bat on the marker?
Arch Stanton
This was the name next to the unmarked grave from 'The Good, The Bad & The Ugly.
M.T. Tomb
The Grave With No Name
What else would you give a man with no name?

The Coyboy's Lament

"O bury me not on the lone prairie
 Where coyotes howl and the wind blows free
 In a narrow grave just six by three—
O bury me not on the lone prairie"

 "It matters not, I've been told,
 Where the body lies when the heart grows cold
 Yet grant, o grant, this wish to me
 O bury me not on the lone prairie."

 "I've always wished to be laid when I died
 In a little churchyard on the green hillside
 By my father's grave, there let me be,
 O bury me not on the lone prairie."

 "I wish to lie where a mother's prayer
 And a sister's tear will mingle there.
 Where friends can come and weep o'er me.
 O bury me not on the lone prairie."


I've always liked this tune. I recall singing it as kid in Scouts and in school. To be honest, I couldn't imagine kids today being taught this song. And that's sad, because (and I don't care if I tick you off by saying it), I think we've allowed too many whiney people to dilute our culture into some sort of mamby pamby shadow of our former glory.
But I digress...
In Gutshot, eventually you're going to kill enough folks (all bad, I'm sure) that you'll need your own boot hill grave yard, and yer gonna want some names to put on the markers that are already there.
I also strongly suggest that you put some dead character names on the stones or wooden planks.
Thanks again to the guys at The Miniatures Page for their help, especially richarDisney!
- Mike Mitchell
06/22/2014