Hittin' the trail for Origins
Meet us at The Last Square to Get Gutshot!
June 28, 2006 -- Columbus, Ohio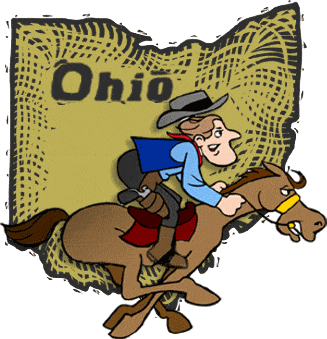 Both Gutshot creators, Mike Mitchell and Mike Murphy, are hittin' the trail and heading northeast this week.
"We're wranglin' up the herd, packin' the chuck wagon and heading off to Columbus, Ohio for the ORIGINS game convention," Mitchell said. "I can't tell ya how excited we are, and how much we're both looking forward to this."
Murphy echoed Mitchell's enthusiasm about the trip, and the opportunity to finally make it to one of the world's biggest gaming conventions.
"This is really a dream come true," Murphy said. "Not only are we finally going to make it to THE biggest game convention, but we're going as nominees for an Origins Award!"
In addition to attending the convention, Mitchell and his wife, Donna, will be staying around for a few days to take in the sights and sounds of Ohio.
"We're both native Texans and neither of us have ever been up to the Great Lakes. So we're planning to visit Lake Erie while we're up there," Mitchell said with a mischievous smile. "Plus, this trip coincides with the Fourth of July and our wedding anniversary, so we're planning to enjoy ALL the fireworks."

Get Gutshot at Origins with
The Last Square
Hawgleg Publishing is proud to announce that it has partnered with The Last Square to ensure that everyone at the Origins convention has a chance to get Gutshot!
"The Last Square is one of Wisconsin's top game stores, and we're pleased as punch that they will be our exclusive vendor for the Origins convention," Mitchell said. "They've even stocked extra Western miniatures for the convention, so this is definitely your one-stop shop for all things Wild and Western."
The Last Square is run by Karl and Bev Kruger and Karl will be in the dealer's room at booth #1015.  Both Mikes plan to visit the table frequently to autograph books and just say "Howdy" to anyone who wants to mosey on by to chew the fat.
For more information about The Last Square, please visit their Website: www.lastsquare.com
For more info about Origins, please visit their Website : http://www.originsgames.com
Gone Fishin'
With both hombres out of town, Hawgleg will be suspending most business operations until they return.
 "I believe I will have e-mail access while we're on vacation and plan to keep in touch on a periodic basis," Mitchell explained. "But the majority of our business activities will be on hold and we will not be filling any orders until we're back home and settled in… somewhere around July 10."
Hawgleg Partner, Paul Mauer, will be holding down the fort on the West Coast and monitoring the forums and generally keeping track of what's going on.
"Hey, somebody's got to do it," Paul said.  "So, at least for a few weeks, I'll be the man in charge."
All operations are officially suspended from June 28 – July 10, 2006. Murphy should be responding to e-mail by July 5, and depending on if Mitchell can get Paul's laptop hooked up to the Internet, he may or may not have e-mail access while he's in Ohio.
"We'll see if I can sort out this danged new-fangled technology and Wi-Fi stuff," Mitchell said suddenly sounding a lot like Ole Doc Murphy. "If not, you'll hear from me when I get back."
Getting Game
Don't tell our bookkeeper we said so, but there's more to the Origins convention than just the dealer's room. There's games! And, of course, those games include Gutshot!
"One of our saddle pals, Dan Frohlich, will be running four games of Gutshot at Origins," Mitchell said. "And I understand that his Thursday night game sold out about a month ago."
Hawgleg will be providing prize support for the games and the boys are likely to pony up to a table or two to join in the action!
Game Schedule
Thursday, 8 p.m., Event #1251
Showdown at the KC Ranch: Regulators attack at dawn
Friday 8 a.m., Event 1252
Taming of Brimstone: Has the notorious Slay Gang finally met their match?
Friday, 1 p.m., Event #1253
Wild Creek Massacre: Banditos, Outlaws and Horse-Thieves oh my!
Friday, 8 p.m., Event #1254
Wild Creek Massacre: Banditos, Outlaws and Horse-Thieves oh my!
You can register for games at the convention..