I Hit a Vein!
New Showdowns & Shootouts adventure released
Nov. 12, 2008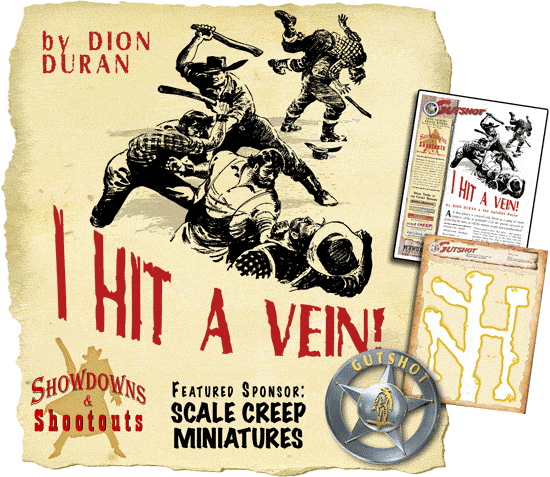 There's gold in them thar hills… and unfortunately, everyone knows where it is! Old man Clem N. Tine lives out in the hills with his daughter where they kept to themselves. That is until the day a sudden rain revealed the opening to a cave just chock full of the richest deposits of gold in these parts. Clem's brought in guards from the "Tough Luck Mining Company" to protect his fortune, but unfortunately, a group of thieves known as "The Band'its" have gotten word of the strike and are heading to the cave to jump that claim. The race is on to find out who will get the gold and who will wind up in an early grave.
Get on over to the Gutshot: Showdowns & Shootouts winners page and download the 10th Wild West adventure in Hawgleg Publishing's long-running contest. This winning adventure is by their old buddy, Dion Duran.
"I'm honored! It was totally unexpected. I got the idea from watching Dr. Quinn, Medicine Woman. I love that series. There were several shows about hidden caves, mining operations, and people finding nuggets, so I did some research on it and found dates and regions which had activity," Dion said when he learned the good news.
To do full justice to Dion's inspired contest submission, the Hawgleg posse pulled out some special beta rules they had been working with to handle the underground mayhem and greed that this adventure calls for.
"The nugget tokens, torches, and special encumbrance rules had been playtested for our upcoming game, Gutshot: Night of the Living Deadwood," said game co-creator Mike Mitchell. "Even though this game is set soundly in the world of the living, those rules really helped add a special touch to this game."
Even though the rules and guidelines printed in this adventure are still in the beta stage, Hawgleg partner Paul Mauer said they are still fairly polished and almost ready for release.
"We have been working on Deadwood for a long time now. So the new material in this game is almost ready for publication," Paul said. "There are a few things that still need work, but for the most part this stuff is good to go."
In addition to the new rules, this adventure also presents another first. Since this game takes place partly underground in a mine complex, Hawgleg has created a full-size printable underground mine complex. Split into separate sheets that can be printed on a standard inkjet or color printer, the mine complex stretches more than 18 x 25 inches, spread across 9 sheets of paper.
"You don't have to print out this map to play this game," Paul explained.  "You can use a dry-erase game mat, or make your own.  Just do whatever is easier for you."
Back in the saddle after Hurricane Ike
 

This adventure marks the first significant release from Hawgleg Publishing after it had shut down in September because of damage incurred during Hurricane Ike. 

"We were very blessed that no one in our family was injured during the storm," Mitchell said. "But it was still a significant disruption in our lives and schedules, and we're just now starting to get back on track after two months."

The team is back at work and is trying to complete the remaining adventures in this contest by the end of the year.
"We want to have everything completed by the end of the year and then open voting so we can award all the prizes in early 2009," Mitchell said.
Thanks to our sponsors and previous winners
As with previous winners, Dion is eligible to win part of the more than $500 in prizes, graciously provided by the contest sponsors:
The adventure is available for free download from the contest Winner's Page: www.hawgleg.com/2007_contest_winner.asp

So far, the winner's circle includes: Al Theobald, Ross Edwards, Carmen Cerra, Dan Hash, Lance Gamble, Richard Nelson, Tom Reed and Andrew Collins and Carmen Cerra, Dion Duran. In addition to the indescribable thrill and glory of having their names attached to a Hawgleg product, each winner will receive a limited edition 'La Vaquera' miniature.

Check out the full prize list on the Contest Page.

The contest is currently closed to new submissions.
Special thanks to this adventure's featured sponsor:
Scale Creep Miniatures