Hawgleg announces newest project:
Sin City Slickers!
Gaming buddies come out about plans to ride new LARP to success
April 1, 2007 -- Houston, Texas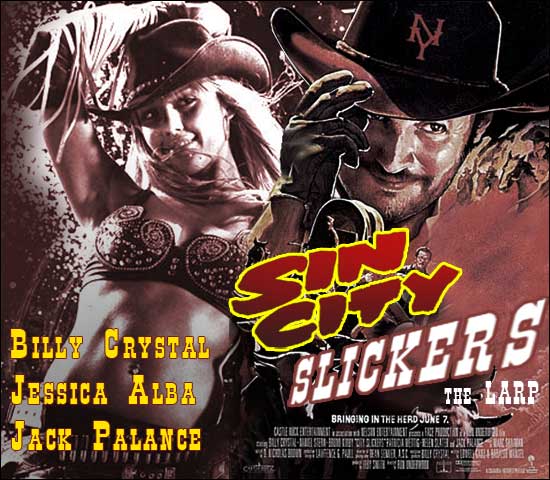 Hawgleg Publishing is loud and proud to announce the latest innovation in gaming – Urban Noir meets Free Range Comedy: Sin City Slickers, the LARP.
A chance encounter in an Austin steam room has lead to the unexpected growth of the most virile gaming development of the decade.
"There I was in nothing but a towel and a smile, soaking up some steam just a few blocks from the Texas Capital, when I realized that I was sharing the same sweat as Frank Miller and Billy Crystal," said Gutshot co-creator Mike Mitchell.
Needless to say, Mitchell was knocked flat on his back and heels over head when he realized that both superstars actually knew of his work and were, indeed, fans of his accomplishments with things in miniature.
"They really liked what I did with such small things," Mitchell said with gratitude.  "They were such genuine guys, so willing to belittle their own accomplishments that I couldn't help but feel a close and intimate connection with them."
Leaving the steam room, the trio dried off and dined at an all-night hot dog stand, discussing their favorite pastimes, including gaming.
"It turns out they're both in the closet about their passion for gaming," Mitchell said.  "They really like to get into it, but didn't want to go public… until now.  While scarfing down wieners all night, we  realized that our best talents could be combined to entertain men (and a few women) everywhere: Combining Sin City with City Slickers with gaming.
A few days later, when he could finally walk straight, Mitchell contacted his Gutshot "partners" and asked for their input on the matter.  Game co-creator Mike Murphy was visibily excited about the idea of joining up with two such notable hot shots as Miller and Crystal, but business partner Paul Mauer needed a few drinks and some gentle coercion before he would climb on board with the other men.
"Whatever," Paul said the next day.
Murphy, a fan of Captain Morgan's Coconut Rum, took it all in stride and shared Mitchell's enthusiasm about having these two media giants getting behind them on the drive to success.
"It will be hard work... very hard and very sweaty, but this is the kind of opportunity that can help a small company like us grow to new, impressive proportions," Murphy said. "And if we succeed, we could get bigger than any gamers our there!"
Which, he admits, would be odd for miniatures gamers, which is why the game went LARP (Live Action Role Playing).
"Some things should just be acted out," Murphy said.  "Especially the things that we're doing in this game: Modern weapons and street cred "Pimp-slap-yer-momma," leather dominatrix "somebody-spank-me" meets the suburbanites in Wild Wild West."
Paul smiled and, with a sad grin, mumbled, "Just the kind of game 'we' love.  Yup.  Just the kind of game the Mikes can't get enough of. They just keep coming back for more and more... they never seem to get enough."
But back to Frank and Billy, Mitchell said.
"What could be better than combining herds of angry cows with gun-totin' lethal ladies with an itch to slap leather?" Billy asked rhetorically. "And all mixed together in an action-adventure comic romp?"
"We're taking a cue from the Margaret Weiss company and will be using lots of photos from the two movies," Mitchell said.  "Along with a few Photoshop liberties, of course.  If you can picture Jessica Alba and Bruce Willis riding shotgun with Billy Crystal and Jack Palance doing one-armed push-ups in a dystrophic  urban wasteland, then this is definitely the game for you!"
Sin City Slickers: The LARP will be released later this year to coincide with the 445th Annual Austin Steamapalooza Peanut Butter Festival and Film Noir LARP convention.  Which is, of course, to say never.  This is just another lame (omigawd, why does Mitchell write while drinking late at night) April Fool's story.
Have a great one!