Get Gutshot with the Houston Beer
& Pretzels Wargaming Group
The Black Labrador Pub, Monday, May 1, 2017
April 6, 2017 -- Houston, TX
If you're in the Houston area, mosey on down to the Montrose area and join us for a pint and a rollicking good time slinging lead and tossing dice from 7-11 pm on May 1, 2017. Gutshot co-creator Mike Mitchell will be wrangling the members of the Houston Beer & Pretzel Wargaming group in a wild-n-wooly game of Wild West mayhem.

"The kind folks of the Beer & Pretzel group have been inviting me to come on down for a while now, so it's time to shake off my natural laziness and take them up on their generous invitation," Mitchell said.

The game will be held at The Black Labrador, 4100 Montrose Blvd #8, Houston, TX 77006, USA [map]

"The event is open to the public, so if you're in the area, come on by and set a spell and wet yer whistle. Since this is in a pub and on a school night, I'm not sure if there are any age restrictions, but I suggest using common sense and not bringing anyone along who's too young to be out that late," Mitchell said.

This Town Ain't Big Enough For All Of Us!
Stealin' muh girl, cheatin' at cards and borrowin' muh last clean pair of socks was bad enough. But when yuh drank all the whiskey and didn't even offer me a drop, that's one insult too many! It's time fer you and those varmints yuh call pals to throw down! It's an all-out gunfight with the last one standing taking home the prize! join Origins Award winning Gutshot co-creator Mike Mitchell for a game of Wild West mayhem.

,
Showdowns & Shootouts Adventures
Contributor Copies to Start Shipping in mid-April
March 27, 2017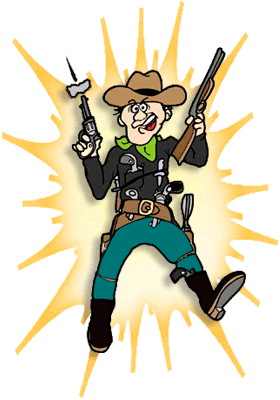 Sorry for the delay, folks, but even after we got the web site back online, we have had a slew of behind-the-scenes stuff going on lately. One of the things still under development is the addition of a new shopping cart, new contact form and a big shift for Arnica Real Estate (more on the latter as it develops).

But we seem to be on track to get it all completed soon, which means that we will FINALLY be mailing out the contributor copies of Gutshot: Showdowns & Shootouts Adventures.

We will be reaching out to each of the contributors to see if you want to buy additional copies (at a discount, of course). We think domestic copies will start shipping in mid-April, and international copies should be shipping by around the first of May.

Contributors: If you do not hear from us by May 1, 2017 please reach out to us through the Hawgleg Forums, The Miniatures Page (we're active on the "Old West" forum) or our Facebook group.

,
Hawgleg Website Restored
For the most part, anyway...
March 5, 2017

Sorry for the excruciating delay, folks. Our Website had a series of critical failures on Feb. 22, which resulted in the complete deletion of all content. Additional failures included the loss of two back-ups, which meant we had to kick it back to our hosting company to get them to restore the site.

And, of course, they were having a problem with their backup server!

When all was said and done, we were able to restore the Website with a backup from Dec. 13, 2016.

All in all, I think we lost 3-4 news stories and about a half-dozen forum posts. We will try to recreate the news stories, but the forum posts are gone for good.

Just give us a few more days to clean things up behind the scenes, please, and we'll do the best we can to put this whole ugly mess behind us.

,
Showdowns & Shootouts Adventures Released!
Long-awaited print version of book is ready to go!
Feb. 4, 2017
Hey Saddlepals, it's yer ole buddy Paul "Mad Dog" Mauer. I'm here to tell you about a brand new book that we here at Hawgleg Publishing have put together for you. It's called Gutshot: Showdowns & Shootouts Adventures, and it's a collection of the best ideas we received during the contest of the same name we held a couple of years ago. Back then, we asked our players to send us their ideas for adventures and we picked some of them to receive some prizes. Little did we know that we would receive so many ideas from our fans. About 50 in all, if my recollection is right.
As part of the contest, we chose a dozen entries, which ranged from chases to bank robberies to an exciting solo-player game. In other words, we had a lot of great stuff to choose from so we tried to mix it up with a combination of classic adventures and daring new ideas. Everything we selected was designed to make the most of the Gutshot ruleset – and build on it. You see, in addition to providing you with maps, character sheets and detailed scenarios, we also added some new rules, vehicles and equipment to the game.
And the best part was, it was all FREE. Yup. Each of the 12 adventures was posted up on the Hawgleg website as free PDFs. And that's the way it's going to stay: The Showdowns & Shootouts adventures are online and will remain so
Well zoom forward to 2017, and that brings us to where we are today. Y'see, we thought that some of you might like to have all the winning adventures in one place, so we made a book out of them. But why stop there? So we actually made TWO books: one is in color and the other is in black & white.
Now, you might be wondering, what is in this book and why should you plunk down yer hard-earned money for something you can download for free? Well, quite frankly maybe you shouldn't. After all, these adventures are available for free download on our website (www.hawgleg.com). We did make a few changes to the book, though. We added a few maps, made a few minor updates and slightly reworded some of the new rules. Nothing major, to be honest. And then we took it over to Miss Mona's parlor and had her take a look at it to make it pretty. It's all gussied up now it's ready fer you to take home for your next round of dice slinging.
The two versions of the book are identical, except for one being in color and the other being in black & white. We ain't gonna lead yuh on: The color version ain't cheap. It's $30. That's why we made the b&w edition: It's only $20. Before ya buy it (if you do), here's the skinny on what's between the covers of Gutshot: Showdowns & Shootouts Adventures:
108 pages
8.5 x 11 inches (both versions have a full-color, laminated cover)
12 Wild West Scenarios for a variety of group sizes and players (there's even a rip-roarin' solo adventure)
154 fully Developed Characters & NPCs
3 New Specialties
2 New Vehicles
New mechanics for handling swimming and white water rapids
New templates and rules for fighting in the dark
A new equipment list
The book will be released Feb. 10-12, 2017 at OwlCon in Houston, Texas. And after that it will be available for purchase from our website. Additionally, in April (or thereabouts) we will also have a PDF version of the book available from vendors like www.drivethrurpg.com (more on that later).

So, if you decide to saddle up for adventure and buy our latest book, we hope you enjoy using it as much as we enjoyed making it.

,
Hawgleg Publishing launches
crowdfunding campaign for DigiMinis
'We only need $17 mil to make this work'
April 1, 2016 -- Houston, TX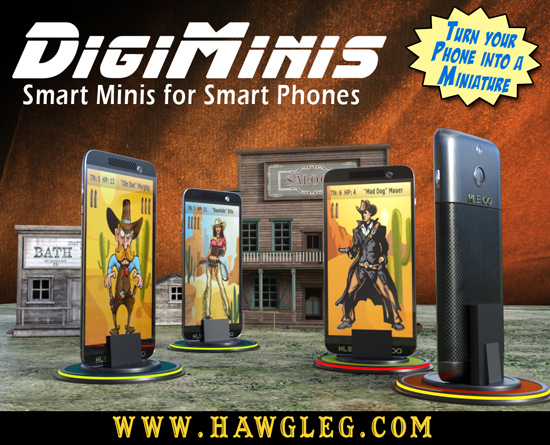 Hawgleg Publishing – the fine folks who brought you chocolate dice and lead-filled whiskey – is proud to announce its latest venture: A crowd-funding campaign for a gaming accessory that will revolutionize gaming and bring it kicking and screaming into the 21st Century.
"I find it amazing that we're still playing miniatures games pretty much the same way that H.G. Wells played them: with small pieces of painted metal and dice," said Hawgleg co-founder Michael T. Murphy. "There are a few nuances to modern gaming, but for all intents and purposes, it hasn't changed since the publication of Little Wars in 1913."
Well, it took 103 years, but there's finally something new in gaming, and if you crack open your piggy bank, you could be the first kid on your block with a brand-new DigiMini! The DigiMini is a radical new concept in tabletop gaming that converts your smart phone into a fully functional miniature. The DigiMini contains two parts:
Part 1: A cutting-edge software application that puts a state-of-the-art, high resolution graphic of your miniature right on your screen. And through the sheer genius of the computer age, it includes text for your character's name, stats and even how much ammo you have left! Part 2: The DigiMini component, which is a weighted base to which you clamp your cell phone so it will stand upright. You may then slide it around the table as you would any other miniature.
The heart of the DigiMini is the ground-breaking DigiMini Base. This base doubles as a charging station, and includes multiple LED lights to convey vital in-game information: The top disc changes color to indicate your DigiMini's movement rate: Blue for walking, Yellow for Trotting, and Red for running. The light ring that surrounds the base changes color to indicate the miniature's health status: Green for good/no injuries, Yellow for Moderate damage, and Red for Severe damage.
"I know when I get going, I like to go all night long," said Hawgleg co-founder Mike Mitchell. "The last thing I need to spoil my fun and games is a dead battery. So we built one right into the base. Now I can get juiced up and the fun will last as long as I can!"
The charger is a 10,000 mAh battery and comes equipped with a standard micro USB port, and adapters for iPhones, Blackberries, and even the USB-Bwana plug that is proprietary to the phone systems in Bongolesia.
"By using an older battery technology that was taken from decommissioned Soviet nuclear submarines, we were able to get the extra weight needed to ensure that the DigiMini base will provide all the stability you need to keep your phone propped up during the game," Murphy said, even as he declined to explain exactly how he got his hands on Soviet submarine batteries.
"The less we know about that, the better it will be for all of us," said Hawgleg silent partner Paul Mauer.
The project is currently in prototype phase, and the guys need additional funding to get it off the ground. They just launched a crowdfunding campaign on CritStarter.con (the acclaimed site for gaming start-ups). They are seeking a paltry $17 million dollars in seed money to start the development process, which they will pursue from their new chateau headquarters on a Caribbean island they haven't bought yet.
"We only need 17 backers to pony up a million bucks each," Mitchell said enthusiastically. "And if one Gutshot fan wants to pay the entire amount, we have a special stretch goal for him: We'll hire an artist to put his face on one of the digital miniatures."
Paul "Mad Dog" Mauer agreed. "If that's not an incentive to open your wallet and pledge a million dollars, I don't know what is."
When the money comes in, the guys will get right to work and should have something ready to ship in about 10 years. Possibly more. Possibly LOTS more, because this is another fake product in yet another silly April Fool's Day story by Hawgleg Publishing. Have a great day, ya'll!